Equal Opportunities & Diversity for Staff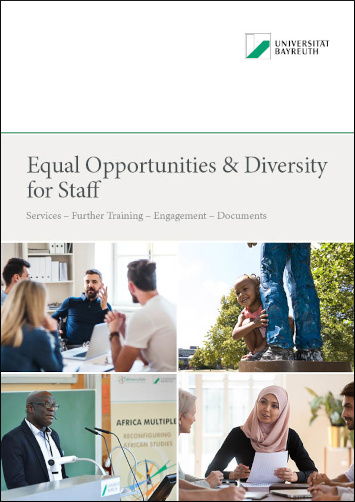 All information on this page are also available as a brochure:
​
Equitable Working Conditions
Offers
Institution
Representation of the in

​

terests of employees and civil servants, contact point for questions on labour law, etc.
Staff Council
Participation in university committees, exchange of information for the non-professorial academic staff
Convention of the Academic Staff
Information on all diversity services, support of empowerment and networking
Diversity Service Centre

Conflicts, Discrimination, (Sexual) Harassment
Offers

Institution

Anti-discrimination guideline,

​

anti-discrimination counselling,
complaints office
Anti-Discrimination
Information on all counselling services, advice on options for action (complaints procedure, conflict counselling).

Counselling on conflicts in the workplace, support in conciliation procedures, counselling on discrimination and harassment (including
experiences of racism)

Conflict Counselling

Counselling in case of conflicts and problems in the qualification phase
Ombudsman for Young Researchers
Initial contact and counselling on sexual harassment and sexualised discrimination
Equal Opportunities Department
Initial contact and counselling on sexual harassment and sexualised discrimination
Women's Representatives of the University and for the Faculties
Counselling and support in cases of conflict, discrimination and harassment
Help in the event of acute harassment or feelings of insecurity on campus
Services by phone
External hotlines

Gender and Equal Opportunities
Inclusion and Accessibility
| Offers | Institution |
| --- | --- |
| Employer's contact person in matters related to severely disabled people | |
| Work arrangements, compensation for disadvantages, recognition procedures, protection against dismissal and much more | |
| Participation and accessibility in University Sports | University Sports |
| Services by phone | External hotlines |
Work and Family
Offers
Institution
Reconciliation of work and family responsibilities, offers for employees with children (childcare, parent-child workrooms, nursing and na

​

ppy-changing rooms, etc.)
Advice and support for partners and families of new employees
Dual Career Support
Services by phone
External hotlines
Internationality, Migration, Refuge
Further Training
The following institutions offer training on equal opportunities, diversity and anti-discrimination - regularly and on request. Please get in touch if you are interested!
Offers
Institution

Diversity and anti-bias workshops (particularly for academic and non-academic executives and for employees with advisory tasks),
Team development for heterogeneous teams,
Diversity coaching for academic and non-academic executives.

Diversity Service Centre

Coaching programme for female researchers (application possible at any time),
CoMento programme for female researchers (new call for proposals to be published in summer 2021),
Training courses/workshops on topics such as personnel management, recruitment, negotiation, language and communication, equal treatment, networking,
Further training for STEM multipliers.

Equal Opportunities Department

Workshops and self-learning resources on university learning and teaching, including the topics of

gender and diversity,
inclusion and accessibility.

Center for Learning and Teaching in Higher Education (FBZHL)


Varying workshops on inclusion and accessibility (e.g. accessible documents, non-discriminatory image design),
Self-study course "Accessible teaching materials" (External E-Learning),
Self-study course "Accessible digital teaching at the University of Bayreuth" (E-Learning).

becks - Office of the Commissioner for Students with Disabilitites and Chronic Illness
Further training opportunities for young researchers, also with regard to equal opportunities and diversity.
WiN Academy
Engagement and Networking